The Entity
ABOUT SAM'S PIZZA
At Sam's Pizza, it is just not about food but we strive to give you a memorable experience with loads of smiles over gorgeous food. With comfortable and youthful ambience, friendly and efficient service, elaborate menu and delectable food, Sam's Pizza is your junction for a great conversational meal!
The Acknowledgement
We have been serving our customers like Family for more than 21 years
The Custom
CARVING LEGENDARY FOOTPRINTS
Sam's Pizza is all about the pleasure of life. We have endeavored to etch a tradition of gourmet storytelling with innovative recipes, bonding, cultural amalgamation that takes you through a refreshing experience.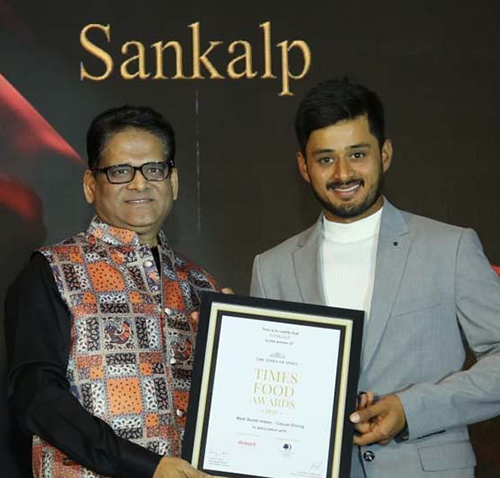 Our historic story begins back in the year 1999. Dr. Kailash Goenka; the Chairman of Sankalp group is the man who laid the cornerstone to such a huge entity today. As an owner of South India food chain 'Sankalp', which he started way back in 1980, Dr. Goenka was familiar with the taste buds and psyche of Indian restaurant market.  At that time, there were just few MNC's in the market who used to serve Pizza. So the cost was a big bottleneck between the Indian consumers and Pizza. Also the Indian taste didn't suit the Italian taste of Pizza exactly. Indians prefer spice and sweet both.  These limitations led to an innovative business idea of introducing a path breaking Pizza offer in the Indian market.
Dr. Goenka started Sam's Pizza with a scheme of serving unlimited Pizza bouquet comprising soups, salads, garlic bread and brownie at a pocket friendly price. This offer took the restaurant market by a storm! It was his sheer shrewdness and tenacity that struck the right cords of the customers. The history is bright and the present seems promising too with our relentless innovation. Today we have 29 outlets all over India and we do offer franchise as well.
PERFECT SLICE AT PERFECT PRICE
The Identity
We firmly believe that our life revolves mainly around food and hence we should eat responsibly. It directly affects our mind, body and soul and hence we aim to serve you 'Paradise on your Plate'. It is just not our job but our passion and way of life to give you satisfactory quality and service.
Personifying Global Tastes
We had a clear vision that we didn't want to replicate the Italian Pizza. We wanted to serve it in American style and also introduce Indian flavours to it. The name 'Sam's Pizza' is inspired from the American soldiers who loved the food in Italy when they were there. So they had adopted it back in America. They experimented with it too, turning the simple hand tossed pizza into a deep pan and thin crust pizza which is also famously known as the New Yorker Pizza.
Hence, our aim is to serve Italian Pizza in American style and this led to the name 'Sam's Pizza'.
Satiating your soul
We didn't start Sam's Pizza as a niche restaurant serving just the Pizzas. It is just not about Pizza here. Our philosophy is to offer you a wholesome meal that serves as an elixir to your taste buds; ensuring the quality. We present an elaborate platter of the most exotic, fresh pan Asian and American salads to go with a variety of dips and spreads. You shall experience memorable spoonful delights with our appetizing Soups. The garlic breads with tossed herbs offer you a magical grill! With our thin crust, thick crust and cheese burst Pizza; it is pure love at the first slice! What shall be a better way to end your epicurean expedition than the goodness of Chocolate? Our Brownie scores a few brownie points in our menu with the most delicious and fudgy texture. If you wish to celebrate food and life, Sam's Pizza is your Paradise.
Chasing Excellence
At Sam's Pizza, our workmanship takes pride in Quality. Quality dictates our business plan. This in turn gives you a comfortable and happy gastronome experience here. If Pizza is termed as 'Junk' then we serve junk in the most healthy and scrumptious way! The titillating aroma of fresh bread, cheese and spices enchants you to an appealing meal at the Pizza place. We make fresh dough twice a day, forcasting the sales of the day. It is a risky bet preparation of 2 hours. In case the projection falls short, we close before time rather than compromising on the freshness of the dough. We bake our own bread every morning. That's the secret to the freshness and softness of our bread. The Brownie is a winner all the way in our menu. It is a secret recepi we bake out of ingredients like walnut, honey, brown sugar, butter, cream etc.
Thus Quality and Innovation is the chariot we have been riding on so strong since last 22 years.
We didn't start Sam's Pizza as a niche restaurant serving just the Pizzas. Our philosophy is to offer you a wholesome meal that serves as an elixir to your taste buds with good quality and service.